Gigabyte's Aorus Master motherboards have traditionally impressed me. They're very much high-end offerings, but aren't priced anywhere near the top tier Extremes and Godlikes of the Asus and MSIs of the motherboard world. You still get a lot of features for your money, but when you jump over $500, diminishing returns really sets in.
A lot was written about the jump in motherboard pricing this generation, though as a second generation LGA 1700 platform, Z790 wasn't as badly affected as the all new AMD X670/E boards were back when they launched. The Gigabyte Z790 Aorus Master at $499 / £524 / AU$1,029 is far from what you'd call an affordable board, but compared to some of the boards costing well over that price it's a formidable competitor.
The Z790 Aorus Master appears to be an evolution of the Z690 Master with a few aesthetic tweaks, redesigned heatsinks, and support for up to DDR5-8000 memory. The Z690 Master became an excellent board after it received some welcome BIOS updates, and it means the Z790 version may struggle to justify its higher price over the now discounted Z690 version.
The Z790 Aorus Master is an extended ATX motherboard, so some consideration needs to be taken to be sure it fits in your case. It's less of a factor than it once was, thanks in no small part to the gigantism of modern graphics cards like the RTX 4090 (opens in new tab). Gigabyte has gone for black and gray theme with just a touch of RGB atop the I/O shield. The look is one that blends form and function nicely.
Z790 Aorus Master specs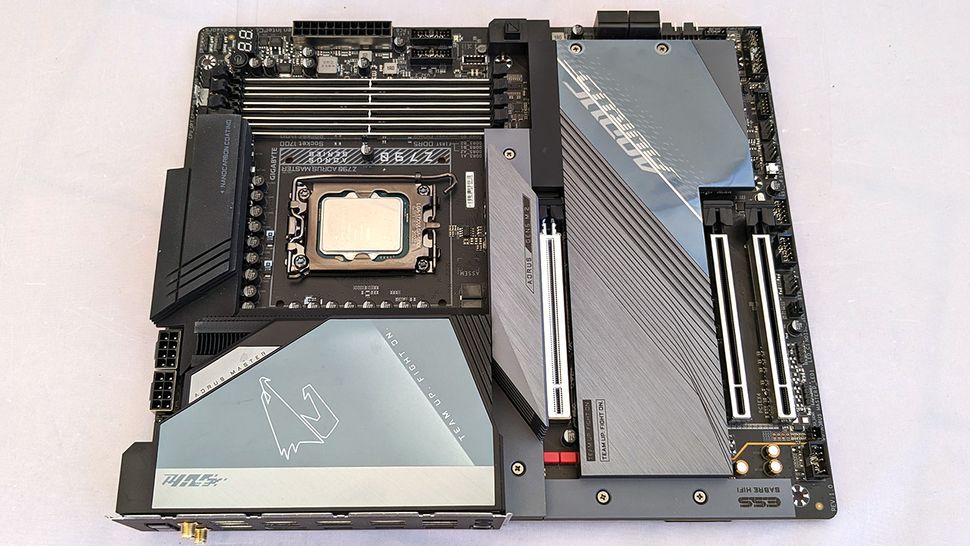 Socket: Intel LGA1700
CPU compatibility: Intel 12th & 13th Gen desktop processors
Form factor: E-ATX
Memory support: DDR5-8000 (OC), Up to 128GB
Storage: 5x M.2, 4x SATA
USB: Up to 3x USB 3.2 Gen2x2, 7x USB 3.2 Gen 2, 9x USB 3.1 Gen 1, 4x USB 2.0
Display: 2x DP 1.2
Networking: Marvell AQtion 10G LAN, Killer Wi-Fi 6E
Audio: Realtek ALC1220-VB
Price: $499 (opens in new tab)/ £524 (opens in new tab) / AU$1,029 (opens in new tab)
A tour around the board reveals some interesting things. The PCIe slot layout is clearly built with triple and quad slot GPUs in mind. The primary slot shares its PCIe 5.0 lanes with the primary M.2 slot.
The Aorus Master is one of a growing number of boards that have a PCIe release switch or latch. As the regular PCIe latch can be difficult to access with GPUs that have a backplate, this feature is a godsend, even if only for the few that switch GPUs a lot (like us reviewers!).
The Z790 Aorus Master is yet another Gigabyte offering with a well engineered cooling assembly. While other manufacturers have tended towards blocky metal heat sinks that lack surface area, Gigabyte continues to use old school traditional finned heatsinks. Our simple test with an unlimited power 13900K resulted in a peak VRM temperature of just 57 degrees. Outstanding!
The other heatsink worthy of focus is the massive primary M.2 heatsink. With PCIe 5.0 drives expected to generate a lot of heat, this kind of cooling ability is very welcome. But don't take it for granted. Heatsinks can and do absorb heat from adjacent graphics cards so you'll still need to ensure you have good case airflow.
The board will accept up to five M.2 drives. Other than the primary slot, they support up to PCIe 4.0. There are just four SATA ports. They're becoming less and less important but still, six would be nice at this level, if not eight.
Other interesting features include a so-called Multi-key button which can be programmed by the user to toggle the RGB on or off, boot to BIOS or enter a BIOS safe mode without losing your settings.
Despite not being awash with blazing RGB, the Z790 Aorus Master includes two ARGB headers and two RGB headers. Plus, there are no less than ten fan and pump headers, a USB 3.2 Gen 2×2 front panel header and power and reset buttons. Not bad at all.
The VRM of the board is a real highlight, as you'd expect from a board that's expected to power overclocked 13900K's. A 20+1+2 phase VRM with 105A stages will happily provide juice for ln2 overclockers. Apart from the out and out overclocking boards like the Aorus Tachyon or Asus Apex, it'll be hard to find something that beats the VRM of the Z790 Aorus Master.
If you want lots of USB ports, the Master is probably the board for you. There are 14 on the back panel alone. These include two 3.2 Gen 2×2 Type-C and a Gen 1 Type-C. Joining these are seven Gen 2 and four Gen 1 ports. That's a strong complement, but note that you aren't getting Thunderbolt 4 or USB 4. They certainly would have been welcome but in fairness to Gigabyte, they're one of the few features that makers use to justify the cost of the halo tier motherboards. USB 4 will eventually be as ubiquitous as USB 3.0 is today. Of course it might be called USB 4.7 Gen 4×4 or some other ridiculous name, but I digress.
The Master includes 10G Lan and Killer Wi-Fi 6E. We love to see 10G and hope it trickles down to cheaper boards in the future. The board includes ALC1220-VB audio which feels like last gen, though it's a strong implementation with Gigabyte's reliable choice of components, including an ESS ES9118 DAC.
System Performance
Gaming Performance
As I say in most motherboard reviews, using benchmarks to evaluate a motherboard isn't all that relevant unless there is some real underlying issue that stands out. A percent or two here or there or margin of error differences don't mean much in the real world.
The Z790 platform is mature, and with power and turbo settings as close as its possible to set between boards, the results are generally close. Still , the Aorus Master performed well, particularly under multithreaded loads. Add to that a very cool and strong VRM and you get the feeling this is a board that won't have a problem being thrashed with heavy loads. It's no slouch at gaming either.
Test rig
CPU: Intel Core i9 13900K
Graphics: Zotac GeForce RTX 3080 Ti AMP Holo
RAM: 2x 16GB G.Skill Trident Z5 DDR5-6000 C36
Storage: 2TB Seagate FireCuda 530
Cooling: Cooler Master PL360 Flux 360mm AIO
PSU: Corsair AX1000
The BIOS of the Z790 Aorus Master is simply miles ahead of my first impressions prior to the 12th Gen launch when DDR5-6000 struggled to run. I reviewed a set of G.Skill DDR5-7200 (opens in new tab) on the Z790 Aorus Master and it ran flawlessly. In fact I was able to boot at 7600MHz with just a bump of memory voltage and loosening CAS latency by one step, but beyond that required unhealthy amounts of IMC voltage. I prefer my CPUs to stay alive for a little longer thanks!
If you're planning to overclock a K-series CPU, you'll need the best cooling you can get your hands on. With a VRM of this spec and cooling to match, your CPU cooling will hit its limit well before the board breaks a sweat.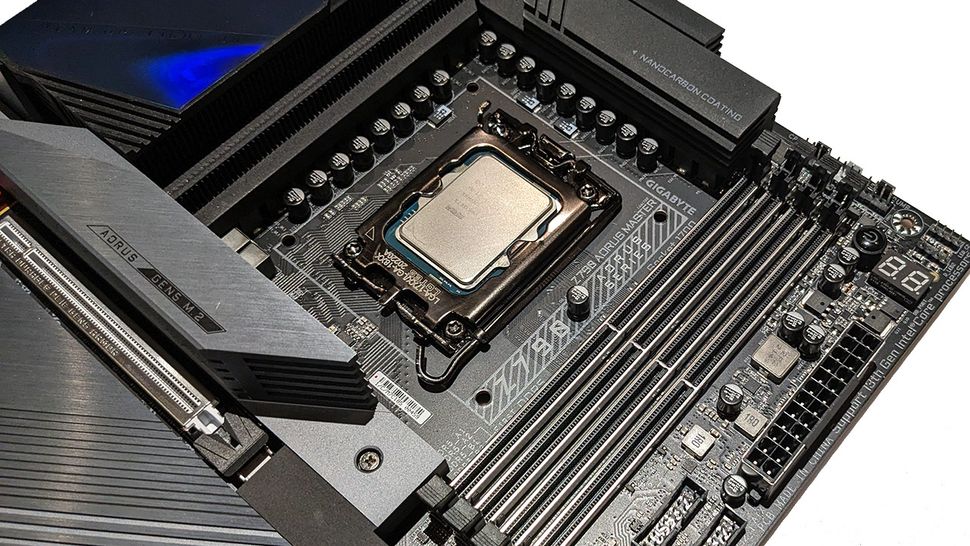 The Z790 Aorus Master is a highly competitive and premium Z790 option at a good price. Its underlying design is very good indeed. The VRM and cooling are top shelf, its easy DDR5-7000 support is a highlight and the inclusion of 10G LAN plus loads of USB ports is welcome.
If you're after USB 4 or Thunderbolt you'll need to look elsewhere and the use of a last gen ALC1220 raises an eyebrow. While the core spec is still good, the formidable Z690 Aorus Master is still on the market. It can be found for significantly cheaper and apart from the PCIe 5.0 M.2 slot and support for fast memory, they are quite similar.
Notably, the Z790 Aorus Master is some $130 cheaper than the Asus Z790 Hero, and cheaper again than the MSI Z790 Ace but it's about the same as ASRock's Z790 Taichi. All are strong options and which one you choose may come down to what features appeal to you the most. That 10G LAN of the Aorus Master will be the clincher for many, while others won't use LAN at all, preferring a little bit of future proofing with USB 4.
But in the end, the Z790 Aorus Master is a strong board and unless you need a specific feature that's exclusive to flagship boards, it doesn't disappoint.