Authorities in Massachusetts have brought to trial a man who allegedly ran a cryptocurrency mining operation out of the crawlspace beneath a high school in Cohasset, a small coastal town about 20 miles outside of Boston. The operation was discovered in late 2021 by a by a town employee who noticed electrical wires and temporary ductwork in an "elevated crawl space" nearby the school's boiler room.
The narrow crawlspace contained what appears to be two sets of specialized mining rigs, one cluster of five and another of six computers, according to photos released by the Cohasset Police Department. The equipment was patched into the school's electrical system and was housed in several coolers with ducts venting hot air to the outside.
Police's primary suspect in the crime is one Nadeam Nahas, who worked for the Town of Cohasset as an HVAC coordinator and assistant facilities director from January 2021 until early 2022. Court records say the operation ran from April to December 2021 and cost about $17,500 in electricity, reports the Boston Globe (opens in new tab).
In a statement to the BBC (opens in new tab), Cohasset Police Chief William Quigley said that after the operation was reported by the facilities director, "Detectives interviewed the director, who said that during a routine inspection of the school he noticed electrical wires, temporary ductwork, and numerous computers that seemed out of place."
Authorities have said that Nahas made references to crypto on a Twitter account, and investigators have found receipts for purchases at hardware chain Home Depot including "coleman 48qt coolers, insulated flex ducts, extreme weather foil, insulation sleeves, and a water-based sealant tub, all items located in the crawl space and used to facilitate the mining operation," according to the police report.
At the time of the initial investigation, Nahas and the town's facilities director told detectives they had shut off the computers due to the amount of heat generated. The subsequent investigation that resulted in charges against Nahas involved assistance from the US Coast Guard and its parent organization, the Department of Homeland Security.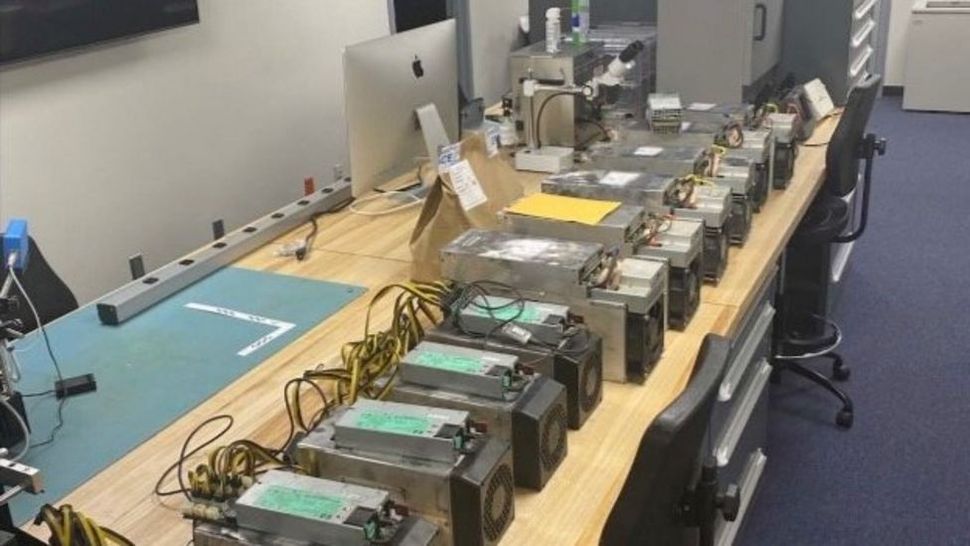 Nahas was brought before the court on Friday, February 24, where he entered a plea of not guilty to a pair of charges connected to the mining operation: fraudulent use of electricity and vandalising Cohasset High School. Nahas will be due back in court on May 17.
We summarized last year's news highlights in the crypto space as a series of collapses, failures, and straight-up fraudsters. I'm glad that this year has, so far, been a competition for the same: this trial, the world's first crypto energy drink, some bean guys getting hacked, repainted mining GPUs on the market, and the FBI confirming that, yeah, North Korea keeps stealing lots of crypto.